Nick Vlasidis

Agent

in Upper Arlington, OH
Associate Information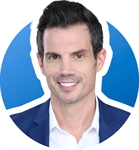 Languages Spoken
English, Greek, Spanish
Professional Designations
ABR, PSA, REALTOR, REALTOR (B), REALTOR (S), SRS
Expertise Types
Buyer Broker, Commercial, Condominiums, New Homes, Property Management, Relocation, Residential, Residential Investment, Single Family Homes, Townhomes
As a full time professional real estate agent, I pride myself on offering superior personal service before, during and after your transaction. Knowledge, commitment, honesty, expertise and professionalism are the cornerstone of my business. Let me earn your trust, your business and most importantly your friendship. Don't make another move without me. I guarantee you will see the difference quality service makes. I look forward to working with you! Check my testimonials at ReferNickV.com
Top Agent Magazine
It isn't often you meet a top listing agent who has a 100% client satisfaction guar-
antee and will let you cancel the contract at any time. Nick knows it's a safe bet,
though, because he's betting on himself, his team, and the luxury-level service they
provide. As he states "Luxury is a level of Service not a price point." It all starts with the human connection and getting to know the client and finding out exactly what they want and need. "It's about them, not me. I focus on being a good human and following the Golden Rule of just treat-
ing every person I meet the way I would want to be treated if I was in their shoes. I focus on providing the best service, the best marketing and the best negotiating for all my clients, and my success takes care of itself."
Behind that goodwill is a lifetime of experience in quality customer service. Nick was a Subway franchise owner for 13 years, selling his business in 2017 so that he could pursue real estate full time. "I'd always known I wanted to be a Realtor at some point. I actually got my license in 2006 and worked at it part time for many years. I've enjoyed helping people find the right home, or helping them get the best market value for a home they're trying to sell."
When it comes to listings, Nick utilizes his 4 P Marketing System that begins with Preparing the home to appeal to buyers, including providing recommendations for professional cleaners and home stagers. He then Presents the home through magazine-quality photographs, high-definition videography, 3D imaging, and drone shots if necessary. He Promotes the property to all of the social media platforms and real estate websites like Zillow or Realtor.com, along with the local MLS as a matter of course. Finally, Nick advises his clients on the best Price for the current
market. Since he began serving clients in the Columbus, Ohio market full time, Nick's volume has grown steadily every year, from 12 deals in 2017 to 32 transactions last year. He's already closed 30 transactions at the halfway point of 2021, with most of that business the result of repeat
clients or referrals. In their reviews, clients cite Nick's market knowledge, communi-
cation skills, and congeniality as qualities that make them want to come back, but Nick also offers something more elemental. "I'm a positive, high-energy person, and I think people can feel that." He laughs. "I know their dogs can. I walk into a house and every dog loves me!" Nick is also conscientious about supporting his community. He's a sponsor for the 2nd and 7 Foundation, which promotes literacy by providing free books and positive role models for children in need. He's also active with his church, is a member of the Rotary Club, and sponsors local high school football teams. Going forward, Nick wants to continue growing his business, and to build a team of about 10 people to keep up with the increasing volume.